Merchant group Beannchor plans traditional music centre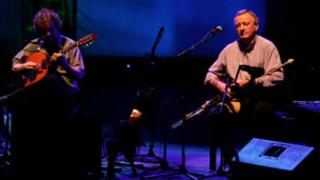 The group behind the Merchant Hotel in Belfast has won planning approval for a landmark traditional music centre in the city's Cathedral Quarter.
The Beannchor Group wants to convert a 19th century warehouse into a facility including a school of music, tuition rooms as well as a pub and dining area.
It is understood the group wants a link up with a traditional music school.
Beannchor managing director Bill Wolsey said he was "delighted" that the plan was going ahead.
He said it would lead to the regeneration of the Grade-B listed building in Waring Street which is the oldest bonded warehouse in the city.
He added: "The aspirations of this cultural centre suit the wider aspirations of the Cathedral Quarter, which is the cultural quarter of Belfast."
It is understood Beannchor sees the new centre as a way of meeting growing tourist demand for traditional music in the centre of the city.
The group had tentative but ultimately unsuccessful contacts with renowned traditional musician Francis McPeake about a role in the new venture.
His own school closed down after 31 years teaching in Belfast.
However, Beannchor has confirmed that it is in talks with another school, which has an interest in both Irish and Scottish music as well as poetry and storytelling.
It is understood the group also wants to offer space for commercial artisans in the new facility.