Nets lead to coastal road closure in County Antrim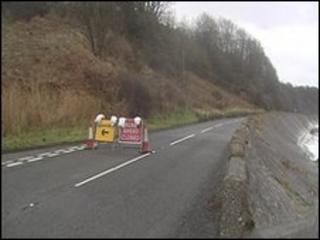 Part of a coastal road in County Antrim is to be closed for eight weeks due to the installation of safety netting to a rockface.
A section of the A2 road at Garron Point near Carnlough will be closed from Monday as the netting scheme begins.
The road was closed on a number of occasions last winter due to falling rocks.
Roads Service said the netting would be 90 metres above the main A2 Coast Road.
It said it had consulted with the relevant government agencies and would ensure the works are completed "in a manner sensitive to the unique environmental aspects of this Area of Outstanding Natural Beauty".
It said the netting, when installed, would be screened by the two main headlands at Garron Point and would not be visible to the road user due to its height above road level.
"Roads Service will endeavour to minimise any disruption by arranging adjacent diversionary routes," a spokeswoman added.
"Roads Service advise drivers to leave extra time for their journey and thank them for their patience during the essential scheme.
"The adjacent Tower Road will be used as a diversionary route which adds approximately four minutes to the journey time."