More unmarked babies graves found at Bethany Home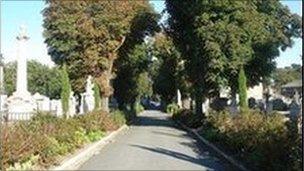 More than 200 infants born at a Protestant residential home in Dublin were buried in unmarked graves, new research has found.
The children were born between 1922 and 1949 at Bethany Home, an evangelical institution for unmarried women and their children.
Earlier this year, 40 infants from the home were discovered in unmarked graves in the nearby Mount Jerome cemetery.
Researcher Niall Meehan said the actual figure is more than five times that.
It included his finding that on average, one child died every three weeks at Bethany Home.
He said 219 children were buried in and around common graves in the cemetery between 1922 and 1949.
More than a third of those, 86 in all, died in a five year period between 1935 and 1940.
Mr Meehan said that at the time, state officials' response to the high infant death rate was very different.
"The attitude of the deputy chief medical advisor was to dismiss all these claims of infant mortality, neglect and hospitalisation because he said it was a well known fact that illegitimate children were delicate."
He also said the Irish state forced the home to stop admitting Catholics after a Catholic charity alleged neglect.
Bethany Home closed in 1972.
In May, a group of the home's ageing survivors gathered to mourn the deaths of Bethany's infant residents.