Ballymoney motorcyclist dies at Killalane Road Races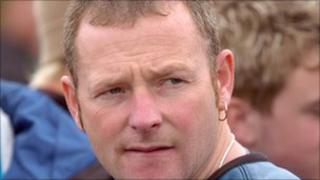 The motorcyclist who died following a crash at the Killalane Road Races in north Dublin on Sunday was Victor Gilmore from Ballymoney, County Antrim.
The 42-year-old was taking part in the event's 600cc race at about 1320 BST when the crash happened.
A marshal was also injured in the collision. Irish police said his injuries were not serious.
Former road racing champion, Phillip McCallen knew Mr Gilmore and said he could not believe the news.
"We're just going through a very very bad time.
"The organisers, the governing body, everyone is doing all they can to try and stop fatalities happening and stopping accidents but unfortunately it has happened again."
Mr McCallen said he was a popular figure within the sport.
'Good guy'
"Victor was a character in the paddock, he was someone who was always laughing, joking.
"He was a good guy. He would help people when they needed help and people helped Victor.
"He was well known throughout the whole of the UK in the paddock.
"It's just such a terrible, terrible thing that this has happened," he added.
The Killalane Road Races first took place in 1984, and were the first races organized by the Loughshinny Motorcycle Supporters Club.
The event takes place on a three-mile circuit outside the village of Skerries.
Mr Gilmore was an experienced rider having competed in races at the Isle of Man TT, across the UK and Ireland and various events in Europe.
It is understood he had been due to give evidence on Monday at an inquest into the death of a spectator in an accident at a race last August.