Victor Gilmore's 'catapulted' bike killed spectator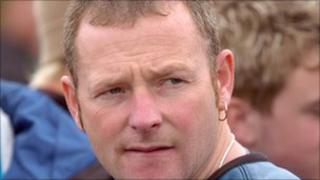 An inquest has heard how a motorcyclist killed in a race in Dublin at the weekend was involved in the death of a spectator at another race last year.
Victor Gilmore, 42, was killed in an accident at the Killalane Road Races near Skerries on Sunday.
He was due to give evidence on Monday at the inquest into the death of Hill McCook, 75, at Armoy Road Races.
Belfast Coroner's Court heard that Mr Gilmore came off the bike, which catapulted forward, killing Mr McCook.
The coroner John Leckey expressed sympathy for the death of Ballymoney-based Mr Gilmore and Mr McCook.
He also voiced concerns over the unpredictable path a bike could take if control was lost at such speeds.
Mr Gilmore is the third Irish rider to die in road races this year.