Moy Park's Brazilian owners make £18.3m profit in 2009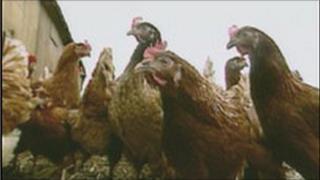 The owners of Moy Park, NI's largest poultry processor recorded a profit of £18.3m, just 12 months after making a £38m loss.
The figures were revealed in a financial report filed at Companies House in Belfast by food giant, Mafrig.
A major restructuring programme in 2008 to improve business performance helped contribute to the company's profits in 2009.
Moy Park was sold to the Brazilian conglomerate in 2008 for £450m.
The company's financial report shows that despite the "challenging conditions" faced by the food industry Mafrig increased its sales by almost six percent from £737.7m to £780.6m in 2009.
Moy Park employs 6,920 full and part time staff in NI, England and France.
In May, Moy Park announced it was acquiring rival chicken processing firm, O'Kane Poultry.
The combined group will have 5,000 workers but the takeover process could result in up to 30 redundancies, mostly in administrative posts.