MI5 'failed to share Billy Wright intelligence'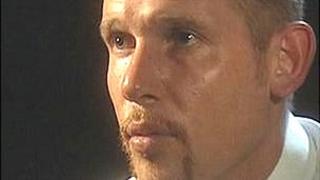 MI5 failed to inform the Northern Ireland security minister of an INLA death threat to loyalist prisoner Bily Wright, a public inquiry has found.
Wright, the head of the Loyalist Volunteer Force (LVF), was shot dead inside the Maze prison by republican prisoners in December 1997.
The Billy Wright Inquiry found intelligence services had information that the INLA opposed Wright being moved to a H Block where its prisoners were housed and intended to kill him at the first opportunity.
However, this intelligence was only shared with the RUC and did not reach the Northern Ireland Office.
Then-minister Sir John Wheeler told the inquiry if he had known about this, he would have asked the Prison Service what measures it would take.
"It is quite unacceptable that a prisoner's life should be at risk in this way," he told the inquiry.
The inquiry concluded it was "most unfortunate" that senior Security Service officers failed to inform the minister about "this most important intelligence information".
It also found that the RUC's handling of various threats to the LVF between October 1996 and June 1997 amounted to "wrongful acts or omissions... which facilitated the death of Billy Wright".