Fermanagh election challenge 'a case of sour grapes'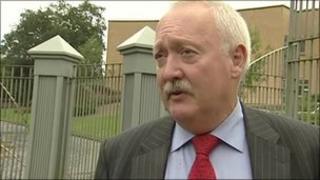 A legal challenge to the result of the general election in Fermanagh South Tyrone has been described as "a case of sour grapes''.
The unionist unity candidate Rodney Connor took the case after losing to the sitting Sinn Fein MP Michelle Gildernew by four votes.
The court heard his team were not made aware that ballot papers described as "doubtful votes" were being adjudicated upon on an ongoing basis.
They said the PA system was inaudible.
Mr Connor's team argued that in previous elections they would have been told when those votes would be examined and given an opportunity to inspect them.
'Amateurish'
But counsel for the Electoral Office said the table for doubtful votes at the count in Omagh leisure centre was clearly marked.
The barrister put it to the UUPs' Tom Elliott that the team's failure to have a strategy to look at these votes suggested a rather amateurish approach.
He told the MLA that their complaints were a "case of sour grapes".
The hearing continues.