NI unemployment figures back to 1998 levels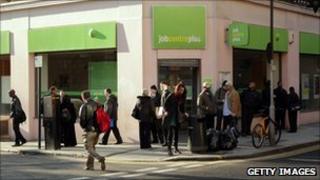 Dole queues in Northern Ireland are getting longer, and there is no sign of this trend slowing.
Even though the economy is considered the number-one priority by the Stormont Executive, the number on the dole is now back at the level it was when the Good Friday Agreement was signed in 1998.
So in spite of a 12-year interlude when the Northern Ireland economy prospered at a faster rate than it had for many years as it emerged from the shadow of the Troubles, in unemployment terms, at least, it's a case of "as we were".
It remains worrying for all concerned that the underlying trend in unemployment remains stubbornly upward.
And there could be worse to come. Many economists fear unemployment will rise later in the year when government cuts begin to kick in.
In August, another 900 people joined the dole queue, bringing to 57,800 the total claiming benefits in Northern Ireland.
Proportionately this was the largest monthly increase of the 12 UK regions.
Commenting on the figures, Enterprise Minister Arlene Foster said: "The latest labour market figures show that Northern Ireland is continuing to experience the impact of the economic downturn.
"Although the rate of job losses has slowed this year compared to last, there was still an increase of 900 in the unemployment register in August.
"It is clear that the recovery is going to take some time."
An alternative measure of joblessness showed a fall for the quarter from May to July 2010, but over the past year there has been a large jump in the numbers claiming benefit.
Year-on-year, the number of people on the dole increased by 5,600; a rise of 10.7%.
In the UK overall in the same period, unemployment has fallen by 8.5%.
By district council area, the highest rates in August were in Londonderry (7.6%), Limavady (7.1%) and Belfast (6.8%).
There is concern that the UK labour market will not be strong enough to support the public sector job losses looming under next month's spending review, with cutbacks to the Northern Ireland block grant expected.
Mrs Foster said: "The October Spending Review will present further challenges and we need to take these fully into account as the Executive shapes its economic strategy to help deliver sustainable economic growth and prosperity."
The economic inactivity rate for those aged 16-64 in Northern Ireland stands at 28.6% - a figure significantly higher than the UK average rate (23.2%) and the highest of the 12 UK regions.