Son of IRA victim Jean McConville is sent to jail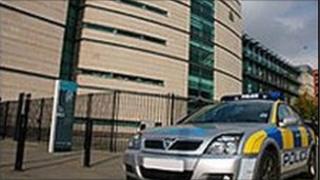 A son of IRA murder victim Jean McConville has been jailed for five years after he admitted being part of a gang who burgled the home of an elderly couple nine years ago.
Belfast Crown Court heard James Paul McConville, 43, from Thornhill Crescent, Dunmurry, sat smoking in a car while his two accomplices, forced their way into the Lisburn property.
An 82-year-old man at the property, ran to a neighbour's house for help but collapsed and died.
The court heard McConville sat in a car parked in a nearby residential home while his two accomplices, who have never been brought to justice, forced their way into the home of George and Thomasina Foster, in January 2001.
Prosecuting QC Stephen Fowler said the men, claiming to be from the Ulster Defence Association (UDA) demanded to know the whereabouts and the combination to the couple's safe.
When Mr Foster "slumped to the ground," the men refused to let him have medication for his heart condition and instead, produced a black handgun and threatened to shoot them.
When Mrs Foster said robbing an elderly couple was "terrible," one of her attackers cold-heartedly told her: "that's my ******* job".
Mr Foster managed to escape and ran to a neighbour's house to summon help but after he told them what was happening, he fell unconscious and died.
Mr Justice Weir said it was "impossible to escape the conclusion that the fatal heart attack was precipitated by the activities of these burglars and his plucky escape from them in search of help".
He said a "diligent police investigation" led officers to McConville after his DNA was uncovered on cigarette butts where the car had been parked but when he was released on bail, he fled to the Republic of Ireland where he remained until he was arrested in August 2008.
McConville was originally charged with Mr Foster's manslaughter but that was left on the books after he pleaded guilty to aiding and abetting the aggravated burglary of their home and to aiding and abetting the couples' false imprisonment.
Mr Justice Weir told McConville that while he did not hold him responsible for the "aggressive and uncaring behaviour" of his accomplices, "it's clear that you knew very well that your criminal associates had a pellet gun and would have to threaten the elderly Fosters to get the money you believed was in their possession".
The court heard his accomplices fled with a handbag, a wallet and a gold bracelet after they "panicked" when Mr Foster got away.
McConville was jailed for five years and agreed to spend a further two years on probation.
Mr Justice Weir said the burglary of the homes of elderly people was "among the most cowardly and disgraceful of crimes".
He also told McConville that had he committed the same offence now, he would not be permitted to impose a probation supervision order "because of the uninformed tinkering of the previous government in perfectly good legislation".