Ex-prison chief Alan Shannon has minister's backing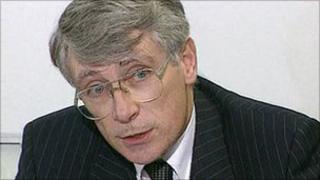 The Employment Minister Sir Reg Empey has said he has total confidence in his Permanent Secretary who was criticised in the Billy Wright inquiry report.
Alan Shannon was the chief executive of the Prison Service at the time of the LVF leader's murder in the Maze jail.
The report said there was a serious failure on the part of the prison service and Mr Shannon to deal with management issues at the Maze.
He is now the most senior civil servant in Sir Reg Empey's Stormont department.
Mr Shannon, was singled out for criticism in the report for his former role at the prison service.
His decision to give the former Maze prison governor Martin Mogg a dual role as governor of the Maze and Operations Director at the Northern Ireland Prison Service (NIPS) was attacked for "severely weakening" the capacity of the operational directorate of the NIPS.
Following calls for Mr Shannon's resignation, Sir Reg released a statement which said: "The secretary has a wealth of experience and nothing in his past professional career makes me doubt that he is anything other than very well placed to lead the Department for Employment and Learning.
"He has, and always has had, my full support and total backing."
'Shameful'
The five-year public inquiry into the 1997 murder found no evidence of collusion by state agencies but did conclude that negligence on the part of the prison authorities had "facilitated" the murder of Billy Wright.
It described the decision to house LVF prisoners in the same block as INLA immates as a "wrongful act".
The panel also criticised the failure of the prison service to classify the INLA men who murdered Billy Wright as high risk prisoners, despite the fact they had held a prison officer hostage at gunpoint eight months earlier.
The report was highly critical of the regime at the prison, having taken evidence that immates "were never locked in their cells and had the free run of their wing or wings".
It stated the "regulations under which HMP Maze was officially managed were largely incapable of being applied and this fact contributed to the disillusionment and frustration felt by prison officers".
Following the publication of the report on Tuesday, the Secretary of State Owen Paterson apologised in the House of Commons for failings in the prison system which had led to the murder.
Billy Wright's father David told a press conference that it was "shameful" that Mr Shannon was still in a top job in the civil service.
'Pressure cooker'
However, Sir Reg Empey argued that the situation at the Maze prison "must be put into context".
"The intense pressure and atmosphere of violence at that time was like a pressure cooker waiting to explode.
"In my opinion, there was nothing more that Alan could have done," the minister said.