Funeral for Charlie Armstrong - 'Disappeared' victim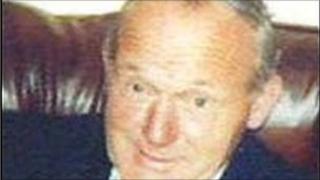 Almost 30 years after Charlie Armstrong, 57, went missing near his south Armagh home, his body has been returned to his family for burial.
Mr Armstrong was one of the so-called "Disappeared". His family believe he was abducted and killed by the IRA for resisting a bid to hijack his car.
He went missing on his way to Mass near his home in Crossmaglen in 1981.
His body was found in County Monaghan in late July. His funeral will take place on Saturday.
Requiem Mass will take be held at St Patrick's Church in Crossmaglen.
The remains were discovered after a search at Colgagh on 29 July. They were then removed to Dublin for further examination and have now been returned to the Armstrong family.
In a statement, Mr Armstrong's family thanked all those who had helped them over the years.
"We have longed for the day when we can bring Charlie home to give him a Christian burial.
"We now need time to grieve and to come to terms with our loss," the family said.
"Charlie was a caring and loving husband and a devoted father.
"He instilled in us all a respect for life, a respect for others and the importance of helping those less fortunate."
Disappeared
Mr Armstrong is one of the Disappeared - the 16 men and women abducted and killed by republican paramilitaries at the height of the violence in Northern Ireland.
The IRA admitted in 1999 that it killed and buried nine of the disappeared - Seamus Wright, Kevin McKee, Jean McConville, Columba McVeigh, Brendan Megraw, John McClory, Brian McKinney, Eamon Molloy and Danny McElhone - in secret locations.
The bodies of Mr Molloy, Mr McKinney, Mr McClory, Mrs McConville and Mr McElhone have previously been found.
Others who vanished during the Troubles include Gerry Evans, Robert Nairac and Seamus Ruddy, who disappeared in France and whose murder was admitted by the INLA.