More Northern Ireland woods may have tree disease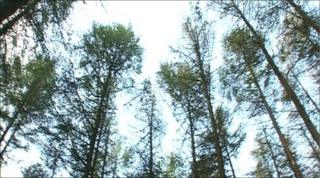 Up to five more woods in Northern Ireland may have the tree disease commonly known as Sudden Oak Death.
The Forestry Service revealed its fears at a meeting to advise the owners of large private woodlands.
Already, two government forests and a private woodland have been confirmed as having the disease and more than 100,000 Japanese larch trees are in the process of being felled.
That could take until May next year.
The Forest Service wouldn't identify the exact locations of the areas it suspected, but it did confirm to the BBC that not all of them were on the Antrim plateau, the site of the existing outbreaks.
That could mean the infection could have spread across Northern Ireland.
It was also acknowledged by the Department of Agriculture in Northern Ireland that the disease could have been in local trees as far back as 2007.
That would have given it a critical head start over three summers to get a hold before anyone realised it was there.
The disease favours and destroys rhododendron and larch. While the plants are alive, the killer fungus produces millions of tiny airborne spores.
But it's not certain how long the material has to be infected before showing symptoms of the disease.
Airborne check
In an effort to identify possible outbreaks, the Forestry Service is taking to the air and using a helicopter to check all of Northern Ireland's woodlands and forests before winter sets in.
Larch tree needles will soon be turning brown as they die off in winter and that could make it almost impossible to spot early signs of infection until next spring.
In the meantime, increased bio-security is being put in place to help prevent the public from spreading the disease further.
Agriculture Minister Michelle Gildernew has appealed for everyone to help.
"I urge all woodland owners and managers to remain vigilant for symptoms of the disease and report suspicious symptoms to Forest Service," she said.
"Although the primary means of natural spread of the pathogen from the larch trees is by wind and moisture, visitors to infected forest areas are also being asked to observe local signage.
"Forest operators and wood processors should also follow the necessary bio-security precautions."
Once cleared of infected plants and trees it could be at least two years before a woodland could be replanted.
But the biggest problem could be resources.
The Forestry Service said it is already stretched to the limit just dealing with the present outbreak.
If more woodlands are found to be infected it could become a crisis as the critical method to stop the infection is to fell infected trees.
Whether they got it right or not may only become apparent next spring when the trees start to produce new needles.