Down fans get ready for All-Ireland final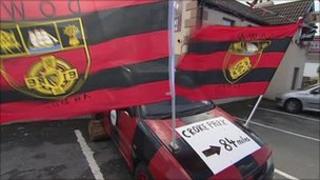 Thousands of Down GAA fans are making last-minute preparations as excitement builds ahead of Sunday's All-Ireland senior football final clash with Cork in Dublin.
Tickets are at a premium for the game at Croke Park as Down aim for a sixth Sam Maguire trophy.
This will be the first time the two teams have met in the final.
Police on both sides of the border will mount a joint road safety operation and have urged fans to drive with care.
For Cork, Sunday's game will represent their third final in four years. They last won the trophy in 1990.
Down have reached the final on five other occasions since the first All-Ireland Championship in 1887.
They have won won the cup in each final appearance, with their last victory coming in 1994.
'Fly-by-night'
The Deputy First Minister, Martin McGuinness, said he hoped Down would maintain "the county's amazing unblemished record in All Ireland finals".
"It has been 16 years since Down last won the title and Gaels from across Ulster will be right behind them as they seek to end that barren spell," he added.
Mr McGuinness also wished the Tyrone minor team good luck in their final which is also taking place on Sunday and said he was hoping for "an Ulster double" at Croke Park.
Comedian and presenter, Patrick Kielty, is to travel from London to be among the Down fans at Sunday's final.
He joked that "fly-by-night supporters" should be able to get tickets for the sporting showpiece.
"When you are watching the game in Downpatrick and I've got your seat be grateful that you have given it up for me," he added.
'Terrified'
Ross Carr, who played for Down in their All-Ireland title wins of 1991 and 1994, said he was "pretty confident" the county would triumph on Sunday as well.
His son Aidan is one of four Down panel members whose fathers have won All-Ireland medals.
"I'm not just a supporter, I'm a terrified parent hoping that Aidan gets some part in the game," Ross added.
"It is very hard to be an impartial parent.
"We have tried to keep Aidan's spirits up all week and tried to keep a low-profile.
"If he wants to talk about the game we talk about it, and if he doesn't we don't bother - we have plenty of other wars within the house to fight!
"But it's been great, 16 years have passed, and I suppose at the start of 2010 no-one in their right mind would have thought we would be participating in an All-Ireland final."
The Ulster GAA Council has joined police on both sides of the border in an appeal to all fans bound for the match to exercise care on their journey on Sunday.
The PSNI's Head of Road Policing, Superintendent Muir Clark, said they wanted "everyone heading to the All-Ireland this weekend to get there and back safely".
He added his officers were working closely with colleagues in the Gardai "to ensure we have appropriate road policing resources in place to cope with the increased traffic".