Irish cricket team defies controversy to play in Zimbabwe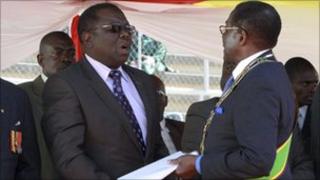 The Irish cricket team will fly to Zimbabwe on Friday despite concerns over player safety.
Ireland will play an Intercontinental Cup match and three one-day games.
The sport's governing body Cricket Ireland says it consulted with the Irish and UK governments before sending the team.
However some critics believe the tour sends out an inappropriate message given the controversy surrounding President Robert Mugabe's regime.
Belfast school teacher Andrew White is one of those flying out for the tour.
"It's a decision we sat down and researched very closely and it's not a decision we've taken lightly," he said.
"Before the last election the British government was saying it was good for us to go, now they're saying they are not so sure. The Irish government have given it their full backing."
Mr White continued: "Henry Olonga, an ex-Zimbabwean cricketer, made a public stand against the regime there during the 2003 world cup by wearing a black armband and he suffered consequences for doing so.
"But he has now given the go-ahead for people to return to Zimbabwe. He fully supports the Irish cricket team going out there and recognises the change the country is going through. He thinks it is a positive thing for us to go."
Darkest days
Last week the Scottish cricket authorities pulled their team out of a similar tour.
Roddy Smith chief executive of Cricket Scotland said that, although the government originally said it was safe for them to travel, its position had changed over the last couple of weeks.
"That advice has strengthened considerably and now they've given us unequivocal advice that we can't go to Zimbambwe," he said."
For additional help in making their decision, Cricket Ireland set up a meeting with the Zimbawean Sports Minister David Coltart, a former human rights lawyer. He flew into Belfast last month to reassure players and officials that the political picture in his country was improving and that it was safe to travel.
Andrew White said some players had expressed concerns about safety.
"Over the times of our own troubles here in Northern Ireland, we tried hard to get some of the major test teams, the Australias and South Africas to come here, and having seen them come through our darkest days it would be hypocritical for us not to go out and help Zimbabwe in their hour of need," he said.