MP Kate Hoey hopes Pope 'speaks directly' about society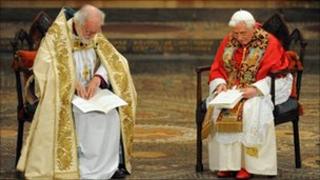 A Northern Ireland-born MP, whose London constituency hosts the Pope on Saturday, has said she hopes he talks directly about modern society.
Kate Hoey, the MP for Vauxhall, said many people feel there have been "enormous changes to our country and the way it works".
"I hope he talks about the state of our society generally.
"I hope he doesn't just talk in a more abstract sort of motherhood and apple pie way," she said.
"I'm sure he won't. So far he's been very direct and I hope he will be direct and say something that we're going to want to be discussing after he's said it."
The Pope will visit the Little Sisters of the Poor care home in the area on Saturday.
"I think he's really wanting to meet residents and have a slightly different type of visit than he's had doing some of the other things during the last three days," Ms Hoey said.
The Pope held talks with David Cameron and senior politicians on Saturday morning.
Organisers of the Pope's visit say his itinerary will remain unchanged despite the arrest of six men on suspicion of plotting an attack. The men are employed as street cleaners in London.
'Marginalised'
The second day of the Pope's visit to Britain on Friday ended with a speech to an audience including four former prime ministers at Westminster Hall.
Pope Benedict passionately defended the role of religion in public life, saying that Christianity, in particular, was being marginalised.
"I cannot but voice my concern at the increasing marginalisation of religion, particularly of Christianity, that is taking place in some quarters, even in nations which place a great emphasis on tolerance.
"There are those who would advocate that the voice of religion be silenced, or at least relegated to the purely private sphere," he said.
"There are those who argue that the public celebration of festivals such as Christmas should be discouraged, in the questionable belief that it might somehow offend those of other religions or none."
SDLP South Belfast MP Alisdair McDonnell, who was there, said there was a great sense of reconciliation at the event.
"It was 475 years ago that Sir Thomas More, the speaker of the House of Commons, was tried there and executed for his religious convictions.
"Those ghosts were all around the place and there have been long periods of suspicion, distrust and hostility that were very destructive," he said
"I had the sense that those ghosts were being laid to rest today and there was a great sense of history being made."