Governments 'not in talks with dissident republicans'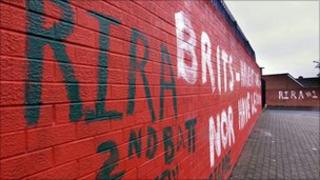 The British and Irish governments have again insisted they are not holding talks with dissident republicans.
The secretary of state and the Irish justice minister were asked about their contact with dissidents after a cross-border security meeting in Dundalk.
Owen Paterson and Dermot Ahern said both jurisdictions were working together to end the dissident threat.
Last month, Sinn Fein's Martin McGuinness claimed both governments had held talks with dissident republicans.
The deputy first minister told the BBC that he "knew for a fact" that the British government had been speaking to dissidents "as recently as the last few weeks" and that the Irish government had been holding such talks for years.
But speaking to journalists in County Louth on Monday, Mr Ahern said there were no talks going on "to the best of my knowledge".
He added that those involved in violence had no political agenda, no focus and were denying the will of the Irish people.
Mr Paterson said: "We cannot have serious negotiations with people who only two weeks ago, tried to kill two children.
"That is not the way we can carry on," he told reporters.
Both men acknowledged that dissident republicans may be recruiting but said the paramilitary groups remained small in number.
The Northern Ireland secretary said that although their numbers were modest, the groups still posed a danger.