Dogs to be put down after attack on Londonderry child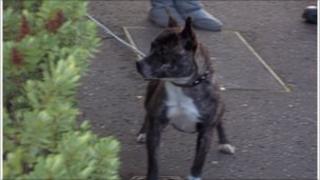 The owners of two pitbull-type dogs which attacked a nine-year-old girl in Londonderry have said they are distraught about what happened.
Danielle McAllister suffered injuries to her arm when she was attacked outside her Gelvin Gardens home.
Craig Watson, whose 17-year-old stepson owns the dogs, said they escaped from the backyard where they were kept, and ran away.
Mr Watson said the dogs are to be put down.
Danielle McAllister was attacked at 1630 BST on Monday. She was taken to Altnagelvin Hospital for treatment.
A neighbour of the family described what happened.
"I had the flu and I was in my bed and my daughter of 15 came running in and says 'mummy mummy run quick Danielle is getting mauled by two pit bulls'," she said.
"I came running to the street and a neighbour across the street and another neighbour, we just lifted brushes and it was locked on to Danielle - the two dogs on either side of her - and then one broke off."
Danielle's mother, Ciara, said that if the neighbours had not intervened, the attack on her daughter could have been much worse.
"I was very upset, it is only for the neighbours I can't thank them enough, they got the dogs away because the dogs were not letting go.
"Because it happened outside our own door, it's probably a blessing in disguise, because if it had happened on the way down from school, no-one would have heard her screaming and they probably would have mauled her face and everything.
"It doesn't bear thinking about."
'Horrendous'
Danielle said she had been shocked by her ordeal.
"It was terrifying, the two dogs were beside the gate and I thought it was Taylor and Molly who live next door having a fight, so I went walking on and then I saw these dogs walking under my mum's car," she added.
"First of all, they came after me and I said go and they went, they came back, I said go and they started jumping on me and bit my arm.
"Once I got down, one of them scraped me on the arm and face and my legs were scraped as well."
Ciara McAllister said she had been fearful of dogs before the attack, but had always tried to give her daughter a balanced view of the animals.
"I am scared of dogs myself, so I have always put on to Danielle not to be scared of dogs, not all dogs are bad, but this has just been horrendous," she added.