Court rules on pensioner's bid to reverse A&E closure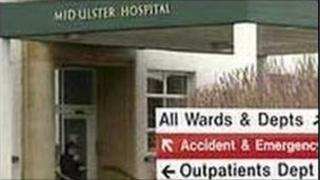 A Magherafelt pensioner will hear later whether his legal bid to stop the closure of the accident and emergency unit at the Mid-Ulster Hospital has been successful.
John Quinn, 70, went to the High Court in Belfast to try to overturn the decision to close the A&E department.
The unit was shut down in May. He claimed the decision was unlawful and he wants a judge to review it.
The High Court decision on whether to grant a judicial review is due later.
Last week, the court heard from lawyers for the health minister, Michael McGimpsey who said the A&E unit had been closed because it was no longer clinically safe for patients.
The department had been downgraded to a minor injuries unit despite a campaign to retain it.
But Mr Quinn believes lives are at risk because the service is not available.
"We need it reopened for the people and that's what I'm looking for, for the people and they went away and closed it," he said.
"I need it to look after me, you know if I took a heart attack, where are you going to go to?"
SDLP MLA Patsy McGlone is supporting Mr Quinn's legal bid.
He said he hoped the decision would be a favourable one in the interests of the entire south area and east Tyrone community.