37 charged over Ardoyne rioting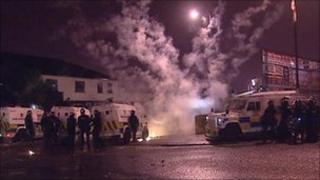 Nearly 40 suspects have now been charged in connection with Twelfth of July rioting in north Belfast's Ardoyne area, a court has been told.
The figure emerged as another two men appeared before Belfast Magistrates Court.
Liam Daykin, 18, of Hannahglen Heights, Hannahstown, Belfast, and Rory McConville, 43, of Lake Street, Lurgan, are both charged with riotous assembly.
They were each remanded on bail to appear along with others next month.
During the hearing a Public Prosecution Service representative confirmed there were 35 co-accused along with Mr Daykin and Mr McConville.
District Judge Fiona Bagnall pointed out that some of the accused have entered guilty pleas.
She said: "Rather than trying to manage a 35 co-defendant case can the PPS look at who can be dealt with quickly and what are the serious matters that will take longer."
Several police officers were injured during three nights of violence in Ardoyne which began on 12 July, after a contentious Orange Order parade passed shopfronts in the area.
A police spokeswoman has confirmed to the BBC that in total, 64 people have now been charged in connection with public disorder across the city over the Twelfth of July period.