Justice Minister: No blame game over Donagh abuse case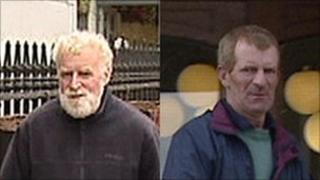 Justice Minister David Ford has said he does not accept that there has been a blame game over the Donagh child sex abuse case.
It follows controversy over how James and Owen Roe McDermott were allowed to return home to the village.
Mr Ford told the Assembly that both the Departments of Health and Justice were working together to clarify a highly complicated situation.
The health minister has announced a review of the McDermott brothers' case.
Michael McGimpsey said the review would be conducted by the Health and Social Care Board.
It follows Mr Ford's annoucement on Monday that there would be an official inquiry into how cases involving sex offenders are dealt with in Northern Ireland.
Both ministers were questioned about their departments' handling of the case at the Assembly on Tuesday.
Mr Ford said the issue was being taken "as seriously as it could be within the Department of Justice".
He said administrative errors made within Courts and Tribunals Service had "led to a degree of confusion" and added to the suffering of the McDermott brothers' victims.
The justice minister said he hoped Assembly members would be reassured by the announcement of the official inquiry, together with internal investigations within the Courts and Tribunals Service, and the work done in relation to staff training and improving proceedures.
He said the external, detailed examination by the Chief Inspector of Criminal Justice was an indication of how seriously his department was taking the matter.
Mr Ford said work was under way "on an urgent basis" and the external report was due at the end of October.
"Any recommendation will be put into place as fast as can be done," he told the Assembly.
James and Owen Roe McDermott were two of four brothers involved in what one judge described as a "tidal wave of abuse" in the County Fermanagh village, stretching back over a 30-year period.
In June, the pair were deemed mentally unfit to stand trial and returned to live in Donagh.
Following objections from their victims and concerned residents, the brothers admitted themselves to hospital for treatment.
However, questions have been raised over how their case was handled by the Justice Department and staff from the Western Health and Social Care Trust.
Last week, the chair of the Assembly's Justice Committee Lord Morrow said the Donagh case was "becoming a search to find someone on whom to label blame".