Bangor band Two Door Cinema Club hopes to be front of Q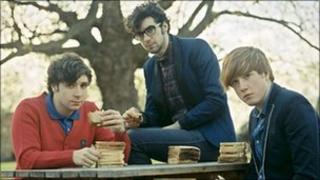 Northern Ireland band Two Door Cinema Club have been nominated in the Best Newcomer category for the prestigious Q awards.
The band, currently in the middle of a sold-out UK tour, have been growing in stature recently.
Since the release of their debut album "Tourist History" in March 2010 they have been peddling their brand of electro-pop all over the world.
They are pitched against the likes of Mumford and Sons and The XX who recently won a Mercury award.
The band is made up of Alex Trimble, Kev Baird and Sam Halliday and hail from Bangor and Donaghadee.
They have recently completed a successful festival season, which climaxed with a set to one of the biggest crowds of the weekend at Reading.
The album Tourist History was released in March 2010 and has already sold more than 40,000 copies.
Their new single 'I Can Talk' is due to be released on 25 October.
In December 2009, Two Door Cinema Club were featured in the BBC's Sound Of 2010 Poll, which was decided by 165 British "tastemakers".