Omagh relatives to press Paterson for inquiry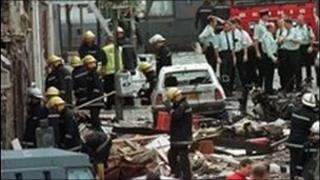 The secretary of state is to meet relatives of those killed and injured in the Omagh bombing later to discuss calls for an independent inquiry.
It will be Owen Paterson's first meeting with them.
Twenty-nine people, including a woman expecting twins were murdered in the Real IRA atrocity in August 1998.
Michael Gallagher, whose son Aidan died in the bombing, said relatives were hoping for a "new beginning, with a new government".
"The secretary of state has already said he's not ruling out the possibility of further inquiries and we feel we can make a good case for that," Mr Gallagher said.
"We don't want a long expensive inquiry , we believe there's no need for it.
"All of the people in Omagh that died or were injured, we know what the cause was, it was the criminals who brought the car bomb into Omagh.
"The people who have information are only a small group of people, so there's no need for a long, open-ended very expensive inquiry."
Mr Gallagher said there had been a number of inquiries into Omagh before - carried out by the police ombudsman and a Commons select committee - but they had only focused on narrow aspects of the atrocity and had raised as many questions as they had answered.
He said he was hopeful the British government would be more helpful than the Irish government had been.
"The government in the south has been very, very reluctant and very uncooperative, it's been very frustrating for the families," Mr Gallagher said
He said the families could be forced to take their case to Europe to "embarrass" the two governments.
"But we would rather work with the government, it's important the families have some public closure on Omagh."
In June 2009 the families won a civil case against four men they blamed for the attack.
However, the only man found guilty in a criminal case of participating in the atrocity, 58-year-old Colm Murphy, had his conviction overturned on appeal.
Murphy's nephew Sean Hoey was later found not guilty in a separate trial.