CBI calls for public sector pay freeze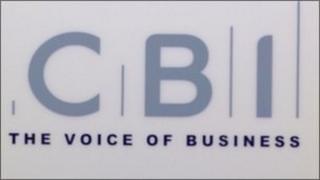 Northern Ireland's business leaders have said a cut in public sector wages is needed to help plug expected funding cuts of about £2bn.
In proposals published on Wednesday, the Confederation of British Industry said there was a need to cut public sector jobs.
It said radical reform including a pay-freeze and a revision of pension arrangements was also needed.
The CBI proposals have been criticised by public sector union Nipsa.
CBI Northern Ireland chairman Terence Brannigan said: "We have too many structures, with too many layers, employing too many people, often rewarded too highly while delivering too little to the people who ultimately employ them - the citizens of Northern Ireland.
"Currently pay levels within the public sector are about 30% higher than those in the private sector and job numbers have increased dramatically over the last 10 years.
"Therefore what we are saying is we must reduce the deficit between public sector and private sector pay and we must reduce the number of public sector employees."
Mr Brannigan said businesses had already had to adjust to a new economic reality by streamlining, downsizing, freezing and cutting wages and developing more affordable pension provision.
"We now need to see similar action from the public service if Northern Ireland PLC is to achieve a level playing field that will address the chasm that exists between the public and private sectors."
The CBI report, 'Time for action: Northern Ireland - delivering public services in a time of austerity', calls for sweeping operational and fiscal changes to all government departments - particularly health, housing, education and policing and justice.
It also urged that consideration be given to significant cuts in legal aid expenditure, increased domestic rates and the introduction of water charges.
'Nothing new'
However, Nipsa general secretary Brian Campfield dismissed the CBI proposals.
"Their interest in public services is incidental to sustaining the profitability of the private companies and it is no surprise that they are calling for greater privatisation, public sector job losses, cuts to public sector pensions and for the introduction of pay freezes," he said.
"This is nothing new as the CBI has always called for reductions in public spending and for the opening of public services to privatisation."
Earlier, Mr Campfield warned that the £2bn of cuts to the NI budget would be met with "stiff resistance".
The Irish Congress of Trade Unions also criticised the proposals and said they did the CBI's own membership "no favours".
Peter Bunting of the ICTU said the confederation had a "brass neck" to make the comments.
"One in three private sector businesses in Northern Ireland depend upon contracts from the public sector," he said.
"Every year, the state which the CBI feel obliged to slash and shrink buys services and goods from the Northern Ireland private sector worth £3bn."
Finance minister Sammy Wilson said on Tuesday that the cutbacks would be "fairly massive" for some departments.
Nipsa said the scale of the cuts would lead to thousands of jobs being lost in the public and private sector.
It said a series of protests have been organised by the ICTU over the coming weeks.