Ex-Anglo Irish head Sean Fitzpatrick on £160 a month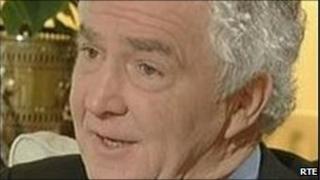 Former head of Anglo Irish Bank Sean Fitzpatrick has a monthly income of 188 euros (£160), it has emerged.
The details were contained in documents filed in the High Court in Dublin as part of his bankruptcy proceedings.
Lawyers for Anglo Irish Bank told the court it was dropping an application to appoint a trustee to his estate.
Such a move would have given it more control over the bankruptcy process, but other creditors favoured the official assignee remaining in place.
Mr Fitzpatrick was declared bankrupt in July.
Investment properties
He owes 110m euros after a series of investments in Anglo Irish shares, which became worthless following its nationalisation.
The bankruptcy process will continue under the court-appointed official assignee, who will discharge Mr Fitzpatrick's assets for the benefit of creditors.
According to documents filed in the High Court, Mr Fitzpatrick has an annuity from Irish Life, which equates to 3,693 euro per month after tax.
However, he said he made a loss of 3,505 euro per month on three investment properties in Bray, Killiney, and Smithfield in Dublin.
Mr Fitzpatrick said this meant he was left with an income of 188 euro per month.
He has just under €50m in assets and liabilities of just under €150m.
Mr Fitzpatrick built up Anglo-Irish to become what appeared to be one of the biggest success stories of the Irish Republic's boom years.
However its business model, which involved lending huge sums to a small number of property investors, was exposed as fatally flawed by a collapse in property prices, caused by the credit crunch.
The bank was nationalised in 2009 and has cost the Irish taxpayer billions of euros.
Mr Fitzpatrick was forced to step down from the chairman's role a month before the bank was nationalised.
He left in disgrace after admitting hiding from the bank's shareholders 87m euros of personal borrowings he had taken from Anglo between 2000 and 2007.
He hid the loans from public view by moving borrowings to another bank before the end of the financial year.