Ulster Unionists pick Tom Elliott as new party leader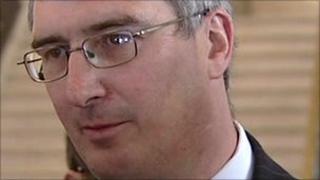 The Ulster Unionist Party has picked Tom Elliott as its new leader.
Mr Elliott, 46, who represents Fermanagh and South Tyrone, saw off the challenge of Lagan Valley MLA Basil McCrea by 643 votes to 294.
Sir Reg Empey had announced he would quit as Ulster Unionist leader in the aftermath of a disastrous general election which left it with no MPs.
Many of the party's senior figures, including all but one of its MLAs, had declared their backing for Mr Elliott.
Mr Elliott said his party needed to be united and build ahead of next year's assembly elections.
"What I want for the Ulster Unionist Party is the very same thing I want for Northern Ireland; I want people with a settled mindset to live in comfort and peace within this province and within the union," he said.
Mr Elliott was seen as the "establishment" candidate, with his background as a senior Orangeman and former UDR soldier, while McCrea had hoped to secure enough votes from rank-and-file members, positioning himself as a moderniser.
In the past decade, the UUP has gone from having 10 MPs to none. One of the first tasks for Mr Elliott will be healing any rifts within the party.
"We cannot become the leading party in unionism again without unanimity," he said.
"Every member of this party, whatever wing they belong to, provided they support the basis, the principles, the ethos and policies of this party that is what is important."
He added: "My focus has not been on tonight, it has been on tomorrow and thereafter and that is what is important."
The new party leader paid tribute to his opponent, Mr McCrea.
"I will certainly not make this a cold house, a cold party, for you and your colleagues," he said.
Mr Elliott will also have to set about winning back voters from the DUP and attracting unionists who no longer vote at all.
'Good debate'
On Thursday morning, Mr McCrea said he "wished Tom all the best" and admitted he was not particularly surprised by his defeat.
"The important thing is that we had a very good debate, a very good argument.
"I've been talking to Tom across the country for the last two or three weeks and a lot of the ideas that we've put forward have now been taken up by the party," he said.
Former party leader Sir Reg Empey also sent his congratulations to his successor from the US, where he is attending the Clinton Global Initiative.
"I would like to offer my warmest congratulations to Tom, who will now take up his place at the helm of the Ulster Unionist Party.
"I look forward to continuing to work alongside Tom and indeed Basil as the party enters this new era," he said.