Resign 'arrogant' Health Minister McGimpsey told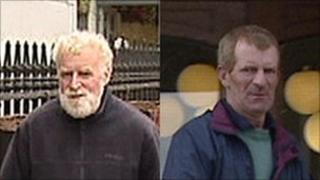 There has been a call for the health minister to step down if he cannot cope with the pressures of his job.
The comment came in a joint committee meeting when the health and justice ministers were providing evidence on the Donagh Child sex abuse case.
Michael McGimpsey was accused of being "arrogant and dismissive" and of "not being fully across the facts of the Donagh child sex abuse case".
The DUP's Paul Givan accused the minister of also being flippant.
There had been criticism that both the health and justice offices had given contradictory evidence on what happened during the trial of two brothers who had returned to the County Fermanagh village after facing allegations of decades of abusing children.
Mr Givan, referring to to Michael McGimpsey's comments that his brief was often busy, told the health minister that if that was the case, he "should consider going".
'Could go'
"The job of every minister is stressful. ... I can advise you there is something you can do that would be more than apologise. You could go," he said.
Earlier Mr McGimpsey acknowleged that he had been wrong during Tuesday's question time at the Assembly when he said a "Dr C" who had provided evidence during the case, was not an employee of the trust when in fact he was.
James, 61, and Owen Roe McDermott, 52, were two of four brothers involved in what a judge described as a "tidal wave of abuse" stretching back over a 30-year period in the County Fermanagh village of Donagh.
The four faced a total of 61 charges against six victims, both boys and girls committed over five decades from 1969 to 2002.
In June, James and Owen Roe McDermott were judged mentally unfit to stand trial and returned to live in Donagh. They were banned from schools and playgrounds in the village and from having access to anyone aged under 16.
Following objections from their victims and concerned residents, the brothers admitted themselves to hospital for treatment.
Another brother, John Michael McDermott, 60, was jailed for nine years for offences which included the rape of a boy.
A fourth brother, Peter Paul McDermott, 62, killed himself after the start of the trial in May.