Four years jail for 'raging wife' who killed husband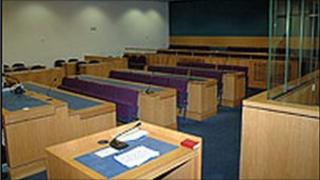 A woman who killed her husband "in a rage" has been sentenced at Belfast Crown Court to a minimum of four years in prison.
Pauline Shaw, 47, of Maymount Street, east Belfast, was originally charged with murdering her husband Stephen on 10 March last year.
The charge, however, was left on the books after she admitted manslaughter by reason of diminished responsibility.
Shaw faced shouts of abuse from the public gallery as she was led away.
Earlier, the judge had told her he could find no evidence of genuine remorse on her part for causing the death of her husband when she stabbed him in March last year.
He said he was handing down a discretionary life sentence, of which she will serve at least four years, because she had been deemed "what is termed colloquially as dangerous," especially to any man she would have a relationship with in the future.
Shaw also admitted perverting the course of justice by telling paramedics and police he had been stabbed by two men the night before.
Mr Justice McCloskey said he accepted there had been an "element of provocation" before Shaw armed herself with a large kitchen knife and stabbed her husband twice in the chest.
He said the offence was aggravated because she had armed herself with the knife before actually using it and had lied to police about what had happened.
After handing down the minimum life term, the judge warned Shaw that even when she has served the four years, it would be up to the Life Review Commissioners and the Secretary of State "when, or even if," she should be released and under what licence terms.
"You could be in prison for a period very considerably in excess of four years," he said.