Rare public sighting of NI bankers at Stormont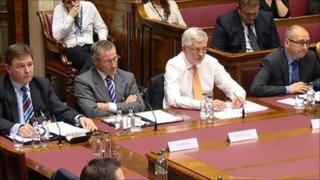 Northern's Ireland leading bankers almost never put themselves forward to be interviewed.
Throughout the banking and property crisis, their public pronouncements have mainly been limited to PR statements.
The exception is when they are periodically summoned to appear before a Stormont committee.
The headline from their latest appearance on Wednesday was the serious allegation from clergymen that banking practises were driving some customers to suicide.
The bankers expressed concern at what they heard.
But the lengthy session also helped reveal something about the state of their businesses.
Kevin Kingston from the Northern Bank was quick to put the boot into his rivals from Ulster Bank, Bank of Ireland and First Trust.
Bubble years
He pointed out that his bank was "not restrained by government ownership", a reference to the fact that the others owe their continued existence to the taxpayers of either Ireland or the UK.
But otherwise the banks were largely singing from the same hymn sheet - they are trying to restore profitability, they are lending to viable businesses and they are improving communication with their customers.
However, they also emphasised there will be no return to doing business on the same terms as in the bubble years.
John Kilty from First Trust said the banking crisis had been caused by "cheap credit and excess credit".
He added that in the future there will be less credit and it will be more expensive making for what he called "a more stable environment".
Mr Kilty also alluded to the fact that First Trust is up for sale as its parent company AIB desperately tries to raise capital.
He revealed that First Trust is not trying to recruit new business customers and that the bank will "reposition itself" in the future, presumably under the direction of a new owner.
One allegation the bankers faced was that their tighter lending policies were driving viable businesses to the wall.
'Difficult customers'
Ulster Bank's Henry Elvin seemed slightly exasperated by this, pointing out to the committee members that a business is not necessarily viable just because its owner thinks it is.
He gave them the textbook definition of a viable business: one that can continue to trade in a way that will fund its interest and repay its loan capital over a reasonable period of time.
And he revealed that some Ulster Bank customers were barely reaching that definition.
"I sat in a meeting this morning where we had ten difficult customers," he said.
"If we wanted to be difficult we would have put receivers into half of those customers - we didn't.
"They are not meeting interest payments, they are certainly not making any capital repayments, and we are rolling up interest or we are foregoing interest to give these customers a chance.
"The banks are giving these guys every chance."
Eventually the spotlight fell on the main cause of many of the banks' problems - the bursting of a property bubble which they, in large part, helped inflate.
"Truly a one in 100-year implosion," Mr Kilty called it.
'Significantly underwater'
He went onto to say there are "a very great number" of land and development loans which are "so significantly underwater" they will never be paid off, even if they gave a customer 30 years to try to do so.
Mr Elvin said his bank was trying to support small builders because they are the backbone of the construction industry.
"That's where the skills base is - it's not the big developers," he added.
As for the big developers, he said, "We all have our problems with those and it's well documented".
Could he have been referring to the huge insolvency of Taggart housebuilders, a business to which the Ulster Bank was heavily exposed?
He said the picture was complicated by those people who were very good builders but had then taken huge risks when they branched out into development.
"In hindsight he or she would have preferred not to," he added.
As a former head of property lending at Ulster Bank, in hindsight Mr Elvin might also have a few regrets himself.