Police officers risk lives in bid to save man from fire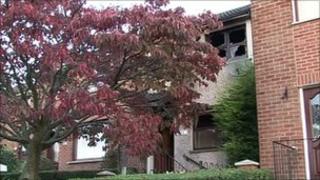 Three young police officers risked their own lives to try and save a man who died in a fire in west Belfast.
He was Joe Smith, 67. The blaze broke out at his terrace house in Lenadoon Avenue at about 0300 BST on Friday. The alarm was raised by a passer-by.
A policeman and woman tried to break down the door of the house but were beaten back by heavy smoke.
Another police officer scaled a pipe and smashed a window but he was beaten back by the fire
Mr Smith's body was recovered by firefighters from an upstairs bedroom.
The three police officers, all in their 20s, were taken to hospital to be treated for the effects of smoke inhalation.
Mr Smith had lived in the area for more than 40 years and neighbours said he was a good man.
Six fire appliances were called to deal with what the Fire Service described as an intense fire which engulfed the ground and first floor of the house.
Sinn Fein councillor Gerard O'Neill went to the scene of the fire.
"People are extremely shocked. The man who died was a good neighbour, a good friend - people got on extremely well with him. The reaction is one of total shock," he said.
"The scene is one of complete devastation. It was a severe fire and there is smoke damage to two neighbours' homes."
Mr O'Neill said the fire was intense and the police and firefighters worked hard to try and save Mr Smith.
"They were on the scene fairly quickly, dealing with a very difficult incident. It was a raging house fire and their professionalism ensured the fire did not spread. They should be commended for their actions."
SDLP West Belfast councillor Tim Attwood said people were shaken by the fire.
"This is a terrible tragedy that has sent shockwaves through the local community," he said.
"Tribute must be paid to the emergency services, particularly the fire crews, who courageously battled and risked their lives in an attempt to save this man and prevent the fire spreading.
An investigation into the cause of the blaze is under way.
The Fire Service said there were smoke alarms in the property but these did not raise the alarm.