USPCA rescues 70 horses from County Antrim farm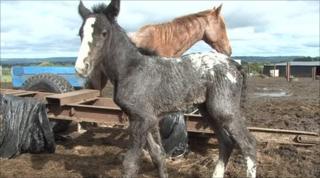 The USPCA has rescued 70 horses from a farm near Mallusk in County Antrim.
The conditions at the farm were described as "appalling" and many animals were malnourished and filthy.
The organisation was called to the farm a week ago by the police but could not remove the animals until now because of legal difficulties.
USPCA officers have been at the site providing food and veterinary treatment for the horses until their legal ownership could be established.
A number of carcasses were also found at the farm.
It is understood a man who had been living alone at the property has health problems and is now undergoing medical treatment.
'Suffering'
The operation is the largest horse rescue ever carried out by the USPCA in its 100 year history.
Stephen Philpot from the charity said the logistics of dealing with so many animals needing care really tested his organisation.
He said they had sought assistance from a number of horse sanctuaries, and had even called on the help of the Dublin Society for the Prevention of Cruelty to Animals.
Mr Philpot said the animals could have been removed from the farm immediately if the words "conditions likely to cause suffering" were included in Northern Ireland's animal welfare legislation.
"There has been a week of completely unnecessary delay here in trying to resolve this situation legally.
"Because we haven't got proper legislation we have had to work through various agenices, work through various legal scenarios, until last night when we were able to the legal definition and ownership of these animals established and get them over into the care of the USPCA.
"That's a big flaw in that legislation and if ever you had an advert for proper legislation, this is it," he said.