UDA recruiting children in North-West: Dallat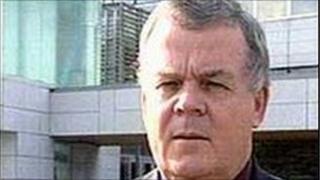 The UDA is recruiting young people into its youth wing, East Londonderry MLA John Dallat has claimed.
The SDLP member said the loyalist group was also intent on stepping up intimidation, increasing sectarianism and "making life a hell for Catholics".
He said the UDA was paying members of Ulster Young Militants to paint hate slogans on the walls in Coleraine.
Mr Dallat has urged the Independent Monitoring Commission to investigate the activities of the group.
He said the IMF, which monitors the activities of paramilitary bodies, had previously reported that the UDA was still involved in assaults on people alleged to be drug-dealing or involved in anti-social activity.
"The IMC also accepted that some members remain involved in a range of serious crime, including drug dealing, intimidation and extortion," he said.
"A new report is due out next month and I sincerely hope that it will focus on Coleraine and the totally unacceptable level of criminality taking place, much of it attributable to the UDA with long-term consequences for peace and reconciliation.
"Central to this is the recruitment of young people, some hardly more than children, who have been sworn in at an address in the Ballysally Estate where the UDA have retained a grip on ordinary people who want to see the tail end of them both in that estate and elsewhere in the town.
"These young impressionable people are being paid by the godfathers to go out and paint the town with sectarian messages of hate often directed against individual Catholics who have got in their way," he added.