More questions than answers says health minister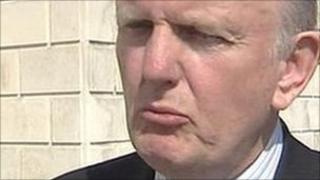 Health Minister Michael McGimspey has said he is unable to answer a question about the number of questions he has been unable to answer since he took up the post.
Mr McGimpsey's response came in an assembly written question from the DUP MLA Alistair Ross.
Mr Ross had asked how many written questions the minister had received since May 2007 and how many times he has responded by saying "this information is not available".
The minister said that since taking up his post he has received more than 5,600 written questions and been asked to provide input to a further 160.
He added that he had also received and answered almost 500 oral questions.
However, he was unable to give details about the number of questions he had responded to by saying "the information is not available".
"My private office does not categorise the responses given to assembly questions and I am therefore unable to advise regarding the number of questions that have been answered in the way you describe," he said.
It is estimated that it costs about £300 to answer an assembly question.