McGimpsey fails to make statement on Donagh abuse case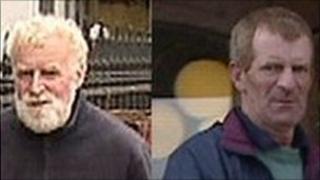 The Health Minister has failed to turn up to apologise to the Assembly following the error he made over the Donagh child sex abuse case.
Last week, Mr McGimpsey admitted he wrongly told MLAs that a doctor who gave evidence in the court case was not a health trust employee.
The minister, who faced a call for his resignation over the matter, was due to make a formal statement on Monday.
But the speaker said Mr McGimpsey would make the statement on Tuesday instead.
'Dangerous precedent'
William Hay told MLAs he had held two meetings with the minister over the matter and insisted there was nothing he could do about Mr McGimpsey's failure to attend.
"All I can do, in the strongest possible way, is to encourage ministers to come to the House, especially when information that a particular minister has given is incorrect," the speaker said.
The DUP's Arlene Foster said Mr McGimpsey's failure to make the expected statement on Monday had set "an extremely dangerous precedent, so that ministers can pick and choose when they come to this House."
The call for the health minister to step down over the incorrect information he had given to the Assembly was made by Paul Givan from the DUP.
'Arrogant'
Mr Givan made his remarks during a joint committee meeting on Thursday when the health and justice ministers were providing evidence on the Donagh child sex abuse case.
He accused Mr McGimpsey of "not being fully across the facts" of the Donagh child sex abuse case and of being "arrogant and dismissive" towards MLAs who wanted answers.
Both departments have been heavily criticised for giving contradictory evidence on what happened during the court case against the McDermott brothers.
Meanwhile, it has emerged that another clerical error was made in documents dealing with the case.
The BBC has learned that a letter issued by the Lord Chief Justice's office to clarify the judge's ruling stated that a doctor had given oral evidence when in fact he had not.
A spokesperson said that while it was embarrassing, it had not affected the outcome of the case.
James and Owen Roe McDermott were allowed to return to their home in Donagh in June after they were deemed mentally unfit to stand trial for sexually abusing children in the County Fermanagh village over a 30 year period.
Both men have since admitted themselves to hospital for treatment.