Pupils 'want consulted on grammar entrance exams'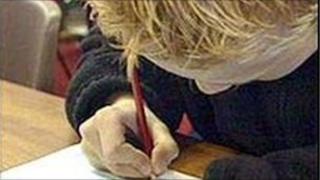 As children prepare for the second year of entrance exams for grammar schools, a NI children's commissioner survey has revealed the views of pupils.
Opinion on academic selection varied but there was a feeling children should have been consulted on the new system.
In 2009, two sets of unregulated tests filled the vacuum left by the ending of the 11-plus transfer tests.
In the aftermath, almost 1,000 primary seven pupils across 29 schools were asked how they prepared for the tests.
They were also asked what they felt about either sitting them or opting out.
Some children, who sat the GL multiple choice tests, used mostly by Catholic schools, said they felt they were easier than the old 11-plus.
Between 40% and 46% had coaching from tutors.
Having to take the tests in grammar schools rather than their own primary, was described as "intimidating and weird" by some.
Parents, teachers and pupils criticised the confusion over the unofficial exams.
The childrens' commissioner said the clear message was, to consult with pupils, to get political agreement on transfer and to reduce the pressure and stress on pupils.