Arts Extra makes its Derry debut on Wednesday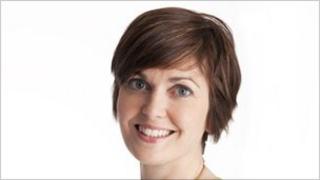 BBC Radio Ulster's Arts Extra programme is to make its Londonderry debut on Wednesday evening.
It will kick off at 1830 BST with a discussion on the challenges of forging links with communities who would not normally be invoved in arts activities in the run up to the city's year as UK City of Culture in 2013.
The arts and culture programme will now broadcast live from BBC Radio Foyle every Wednesday.
Fronted by regular Arts Extra presenter Marie-Louise Muir, the midweek programme will feature even more coverage from the north west's vibrant arts and culture scene, while still looking at arts events and issues from across Northern Ireland.
"I grew up in Derry," said Marie-Louise, "and, professionally speaking, I cut my teeth in the arts scene there before making my broadcasting debut on BBC Radio Foyle, so broadcasting from the studios there really will be like coming home once a week.
"The north west has such a rich and varied arts scene and I think it's great that Arts Extra can now act as even more of a showcase for what's happening there and share it with our audiences all over Northern Ireland.
"And, of course, it's such an exciting time for arts in Derry in the run up to the City of Culture 2013, so I'm sure we'll have no shortage of features, previews and reviews from there and the rest of the north west."
The weekly move to the north west is part of BBC Northern Ireland's plans to increase co-operation between BBC Radio Ulster and BBC Radio Foyle, and develop the Derry station as a key production base for wider BBC output.
The director of BBC Northern Ireland, Peter Johnston, said the plans were proof of the BBC's commitment to the community and cultural life of the north west, as well as the corporation's "ambition to showcase the best of creative life from all over Northern Ireland.
The editor of BBC Radio Foyle, Michael Tumelty, said the move was "a testament to the talent, commitment and long-term vision of the team at BBC Radio Foyle."
"Arts Extra is quite simply one of the best examples of arts programming to be found on radio anywhere - eclectic and informed, but at the same time accessible and exciting.
"It has an established reputation and now it will play a key role in bringing the wealth of talent that exists across the arts in the north west to both a local and wider audience, especially in the run up to Derry being the UK City of Culture 2013.
"That has to be good for BBC audiences in the north west and in Northern Ireland as a whole."
Arts Extra is on BBC Radio Ulster and BBC Radio Foyle Mondays - Fridays at 1830 BST.