Hundreds of mink on the run in County Donegal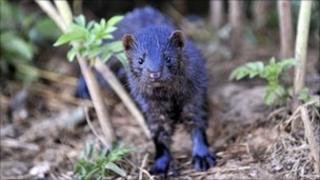 Hundreds of mink have escaped from a farm in Ardara in County Donegal.
The mink were being farmed in the Meenavalley area.
It is thought someone cut wire securing the animals' cages and let them out.
Local farmers have been advised to be on the lookout for the mink.
Connie Anderson, the owner of the mink farm, described those repsonsible for letting the creatures escape as 'animal terrorists'.
The Secretary of the Sliabh League Angling Club, Noel Carr, said that it would unleash a "terrible" environmental problem on south-west Donegal.
He said the mink will need food, and salmon will be an easy target.