Former US president Bill Clinton arrives in Londonderry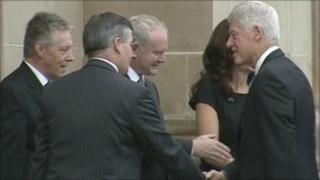 The former US President Bill Clinton has met Northern Ireland's first and deputy first ministers after arriving in Londonderry.
Mr Clinton is on a short visit to the city designed to support the peace process and promote economic growth.
The visit is in advance of a Washington summit on the Northern Ireland economy on 19 October.
First Minister Peter Robinson paid tribute to the ex-president's continued involvement in the peace process.
He said Mr Clinton was distinguished by the fact that he had "sustained his interest in Northern Ireland beyond the time when the agreements were reached.
"He recognises, I think more than many others did, that it isn't simply enough to get political agreements that get you past the stumbling blocks that have held us down in conflict and division."
Mr Robinson said it was also necessary to build a society with economic prosperity and in that, Mr Clinton had played "a full role".
The former president is making a speech at the University of Ulster campus at Magee College in Derry.
The Washington summit will be hosted by his wife the US Secretary of State Hillary Clinton and aims to encourage American business leaders to invest in Northern Ireland.
The US Economic Envoy to Northern Ireland, Declan Kelly said the former US president would meet local business leaders and members of a working group, which Mr Kelly set up.
"This is a fact finding mission so he can update himself and given that he meets many of the leading business people and political figures in the world everyday in his very busy schedule, I think that's a great opportunity and we're just taking advantage of it," he said.
The Clintons have been long-time supporters of the Northern Ireland peace process and have made several high-profile visits in both official and personal capacities.
This is the former president's first return trip since 2004.
He's also due to meet his oldest friend in Irish politics, the former Nobel peace prize winner John Hume.
Mr Clinton is due to travel to Dublin for another engagement on Wednesday evening.
Last year, Hillary Clinton addressed local politicians at Stormont Castle in her capacity as secretary of state.
Her visit took place during protracted negotiations on the devolution of policing and justice from Westminster to Stormont.
At the time, she warned MLAs that economic progress was linked to the success of the peace process.