Belfast rapist jailed for two years for 'break in' bid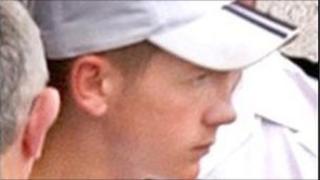 A double rapist has been jailed for two years after he tried to break into a house, just two months after he was released from an eight-year sentence.
Belfast Crown Court heard Michael Quinn, 21, was originally jailed in 2007 for raping a 15-year-old English schoolgirl. He was released in August 2009.
A prosecuting lawyer told the court police received a 999 call on 19 October from a woman saying a man was trying to break into her Marlborough Park Central home in Belfast.
A dog handler rushed to the scene and the dog sniffed out Quinn who the lawyer said was hiding under a nearby hedge.
The lawyer said police found that two windows of the house had been tampered with and a Toyota Carina car parked next door had been broken into.
He said that at the scene, Quinn told police "since when has breaking into a car been burglary".
Quinn, formerly from Glasvey Drive in west Belfast, but whose address was given as c/o the Juvenile Justice Centre in Bangor, later pleaded guilty to attempted burglary, attempting to steal the car and breaching a Sexual Offences Prevention Order (SOPO).
The lawyer said that a week before he was released, a Magistrate imposed an interim SOPO compelling Quinn to abide by hostel rules, not to leave the hostel alone and barring him from drinking.
He said despite the court order, Quinn had been "aggressive to staff," had failed to sign in or out of the hostel, "was under the influence of something" when he was arrested and had left alone on the night of the attempted burglary.
In May 2007, Mr Justice Hart jailed Quinn for eight years after he pleaded guilty to two counts of rape, one of indecent assault and four counts of false imprisonment.
On Tuesday, a defence lawyer said that since his arrest for the rapes, Quinn had spent just six and a half weeks outside custody.
He said at the time of the attempted burglary, Quinn "wanted to get a car and wanted to get back to his family home again" adding that the offences were "characterised by petulant teenage behaviour".
As well as the two-year jail term, The Recorder of Belfast, Judge Tom Burgess also imposed a Sexual Offences Prevention Order with nine conditions, which will remain in effect "until further order from the court".
As part of that order, Quinn is prohibited from living anywhere without permission from his risk manager, contacting his rape victim, leaving Northern Ireland, having contact with children, having a relationship with an adult female without the permission of his risk manager, being under the influence of alcohol or illicit drugs or from breaking hostel rules.
The judge said that had it not been for the fact that Quinn will be under licence until 2013, he would have considered imposing an extended sentence given Quinn's "attitudes and the risk he poses to the general public".