Ambulance overturns in traffic accident near Claudy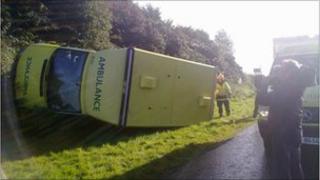 An ambulance and a council recycling van have collided on the main Londonderry to Belfast Road.
It happened at the junction of the Glenshane Road and Golf Road on Tuesday morning.
The ambulance, which had two crew on board, overturned on its side on a grass verge but the staff were not hurt.
Two employees of Derry City Council were in the van but were also not injured.
All four were taken to hospital as a precaution.