New bonfire strategy is developed for north west area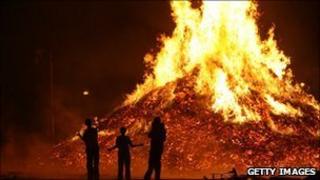 A new strategy on dealing with bonfires in the north west is to be developed based on research carried out on public attitudes towards the fires.
In a joint project, Derry City Strabane and Omagh Councils commissioned a consultancy firm to carry out surveys and develop ways of managing bonfires.
Views were sought on a range of issues for the £20,000 project.
They included improving safety, making them more family friendly, providing alternatives and discouraging fires.
The project is supported by Peace III funding.
Paul McSwiggan, Environmental Health Officer with Derry City Council, said the cost to local authorities of managing and cleaning up after bonfires ran into thousands of pounds every year.
"There has been a culture here over the past number of years that bonfires are seen as part of people's identity and culture.
"The council would take the view that, in terms of trying to support those people in the communities that want them, let's try and get them to manage them better.
"In other areas where they don't want them, there is a view that we should be trying everything we can to prevent them from happening, so there in lies the difficulty - we have two sets of rules for the one problem."
He explained that the difficulties were not confined to the summer months and said there were also issues with Halloween bonfires.
"We have to develop strategy that suits all our needs in the 21st century, and maybe we can get something positive out of the bonfire celebrations in general," Mr McSwiggan said.