Hangover of Irish economic binge continues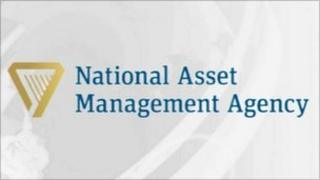 The Irish government's National Asset Management Agency, Nama, which was set up in response to the banking and property crisis has said it will take over loans of around £3.3bn relating to assets in Northern Ireland. John Campbell of BBC News looks at what that will mean.
When Nama's Peter Stewart spoke at the Northern Ireland economic conference on Wednesday he sounded a bit like a father returning from holiday to find the house had been wrecked in a drunken teenage party.
He spoke of a hangover brought on by a speculative binge and warned the bleary-eyed party goers that they better help with the clean-up, or else.
The fine detail of his speech, or should that be lecture, made a number of things clear.
He warned that some landbanks, which account for £2bn of the total NI Nama figure, which were bought for crazy prices will never recover their value.
That will inevitably bring pain for those who bought at the top of the market.
He compared the market for development land in the early part of this decade as being on a par with the Dutch tulip mania of the 17th century.
He also spelled out that while he expects Nama to have relatively little impact on the Northern Ireland housing market it will have a very large impact on the commercial property market.
Only a small part of the investment loans Nama is taking over relates to residential developments in Northern Ireland.
Mr Stewart also said that the problem of uncompleted housing estates - so called ghost estates - is tiny by comparison to the situation south of the border.
"In this part of the island there does not appear to be a huge supply overhang of residential properties," he added.
Loans
Turning to the investment market - which is mainly office blocks and shopping centres- he said Nama's role would be a dominant one.
Nama is taking on loans secured against investment property with a nominal value of £1bn.
To put that into perspective, the annual turnover of the entire investment market in Northern Ireland this year is expected to be just £150m.
For Nama to get its money back within a 10 year time frame it is clear that a lot of this property will have to be sold, but as there is such a glut, how are they going to manage it?
As Mr Stewart put it "there will be challenges in realising these assets".
He said Nama would look to the investment community, which is dominated by a small number of companies, to come up with some creative proposals, such as joint ventures and phased transfer of ownership.
And there will be money in the Nama pot for completing developments where it makes financial sense to do so.
But back in stern father mode he warned there would be consequences for failure to co-operate.
"The choice for debtors is either one of consensual agreement or enforcement," he said.
He listed the full horrors of bankruptcies and liquidations, adding: "Be in no doubt that where it is necessary to take such steps, they will be taken."