Legal action begins against musician Jim Corr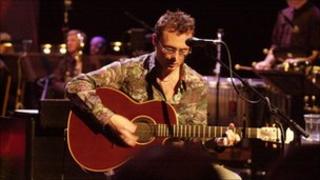 A bank has started legal action against the musician Jim Corr and an associate for an alleged debt of 1.3m euros (£1.127m).
ACC bank applied to the High Court in Dublin on Thursday for an order relating to the serving of court documents on Jim Corr at his home in County Down.
In a sworn statement, solicitors for ACC Bank claimed numerous attempts had been made to serve Mr Corr with legal papers.
The court was told ACC Bank will apply to have the proceedings submitted to the Commercial Court.
ACC Bank is suing Jim Corr of Old Windmill Road, Crawfordsburn, Bangor, County Down, and Liam Marks of Blackrock, Dundalk, County Louth, for an alleged debt of 1.3m euros.
The loan relates to 91 acres of land at Goresbridge, County Kilkenny.
Senior counsel for the bank, Bernard Dunleavy, told the judge on Thursday that Mr Corr was "a citizen of Ireland and a well-known musician".
He secured an order for "substitute of service".
This will allow the bank to serve notice of the legal proceedings on Mr Corr by post.
Jim Corr, 46, rose to prominence as a member and singer/songwriter with the family folk rock band from Dundalk, County Louth, - The Corrs.
They have released five studio albums and a number of singles which have gained international acclaim.
Talk on Corners, their most successful album, obtained multi-platinum status in Australia and the UK.