McCausland links IFA review to stadium cash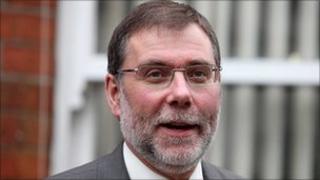 The Sports minister has warned again that cash for stadia will not be released until ongoing problems at the Irish Football Association are resolved.
Nelson McCausland reiterated his call for an independent review of the IFA and warned that cash for redevelopment would be withheld until its completion.
Rugby, GAA and soccer are all waiting for multi-million pound grants to improve their respective stadia.
The minister said the cash would not be released to rugby and GAA alone.
Recent media reports had suggested that the minister would provide money to the two sports and wait until the IFA review was completed before a quid pro quo for Windsor Park.
However, he said it was a "three sport package".
"If there is a difficulty with one or other of the sports and some reason for delay, then we will look at it at that time.
"However at this point, we are pressing ahead on a three sport basis."
A series of controversies have dogged the IFA in recent years.
Last month, four members of its executive, including president Raymond Kennedy and vice-president David Martin said they would step down from their posts.
Ravenhill, Casement Park and Windsor Park are the main stadia for rugby, GAA and soccer respectively and are all in need of millions of pounds for redevelopment.
The Northern Ireland Executive agreed to provide the money after it decided not to go ahead with building a single stadium for all three sports at the Maze prison site.