Top predators found in Irish waters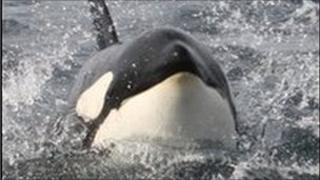 You may not expect to see killer whales in Irish waters but 14 have been spotted so far this year.
They have been seen off the north Antrim coast and just recently two were sighted off Kerry.
Padraig Whooley is co-ordinator with the Irish Whale and Dolphin group.
He said the public have nothing to fear from these "apex predators" who have no natural "enemies" in the wild.
"You probably have nothing to worry about unless you're a herring," he said.
"There is no documentary evidence, despite all the works of pure fiction and some very dodgy movies.
"There's no evidence at all that killer whales pose any threat whatsoever to people or to people in boats," he added.
'Big, big dolphins'
Mr Whooley said it was important to remember that killer whales are just "big, big dolphins".
While most eat fish some are partial to a more substantial meal.
"There is evidence that some of these killers whales, especially those that have been coming across from Scottish waters, some of them have actually been seen attacking and killing Minke whales, so they are like a pack animal and some of them are meat eaters as opposed to fish eaters but that doesn't mean they pose any threat."
Irish waters are home to 24 species of whales and dolphins and killer whales are just one of them.
"They have a global distribution, they're found in all oceans of the world, so its not surprising that in our rich, abundant and clean Atlantic waters, we have killer whales," said Mr Whooley.
He said their "apex predator" status meant there were relatively few sightings in Irish waters.
"If you think of any top predator, there's never loads of them, they're always very patchy in distribution and that's the exact same with killer whales.
"They turn up just when you least expect them."
'Dopey Dick'
Mr Whooley said there was a "fantastic history" with killer whales in Northern Irish waters.
"There was a famous animal that was nicknamed 'Dopey Dick' who swam right into Lough Foyle and spent three or four days swimming around the walled city of Derry and that was back in 1977."
Anyone lucky enough to spot a killer whale in Northern Irish waters can report the sighting to Northern Ireland Environment Agency, who are responsible for co-ordinating cetacean sightings in NI waters.
The Irish Whale and Dolphin group can be contacted for sightings in waters in the Republic of Ireland.