Suicide husband murdered his wife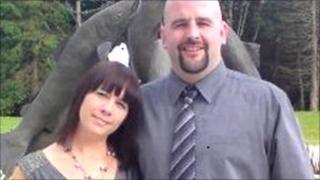 A man is believed to have killed his estranged wife then taken his own life in County Antrim.
Sharon Hull, 33, was found at the family's home at Carnbeg Meadows in Antrim at about 0830 BST on Saturday.
It is believed the mother of three children under the age of 10 had been stabbed to death.
The body of her husband, Philip Hull, was discovered a short time later in a car park in Tardree Forest on the outskirts of Antrim.
'Shock'
It's understood the children were not in the house on Saturday
A police spokeswoman said detectives were following a definite line of inquiry that links the deaths.
They have appealed for help in tracing the final movements of Mr Hull, whose body was found in his car.
Detectives piecing together the sequence of events have asked anyone who heard a disturbance near the family home at about 0300 BST on Saturday to contact them.
UUP councillor Adrian Watson, who knew the couple, said: "They have been married for nearly 15 years, they have a young family of three children - it's a huge shock."