OFMDFM committee 'stifled by party loyalty' says Kelly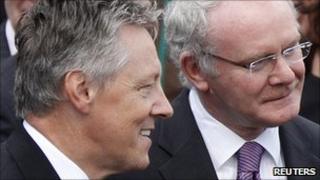 An SDLP MLA has accused the Stormont committee which scrutinises the Office of First and Deputy First Ministers of not doing its job properly.
Dolores Kelly said criticism was being stifled because DUP and Sinn Fein members tended to back their ministers rather than hold them to account.
"There has been such a paralysis at the Executive where the first and deputy first minister haven't agreed legislation or strategies, so there's quite a backlog of work," she said.
Mrs Kelly is the sole SDLP representative on the committee, which has four DUP members, three Sinn Fein members, two Ulster Unionists and one Alliance Party MLA.
Its chairman, Danny Kennedy of the Ulster Unionist Party, said similar criticism could be levelled at other committees.
He told the BBC's Politics Show the committee had tried to work constructively to perform its scrutiny role.