Familes of C. diff victims to give evidence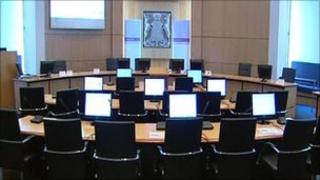 Families of patients who died during Northern Ireland's biggest hospital superbug outbreak are due to start giving evidence to a public inquiry.
An independent panel is to review the number of patients who died in Northern Trust hospitals, directly or indirectly as a result of clostridium difficile, between June 2007 and August 2008.
The hearing at Antrim Civic Centre is expected to last three weeks.
The final report and recommendations are expected by the end of the year.
Around 60 people are expected to take the stand, including the former Chief Executive of the Northern Health Trust, Norma Evans and Chief Medical Officer Dr Michael McBride.
To date almost 200 people have contributed to the Inquiry's work including bereaved families, former patients and their relatives, as well as Trust staff.
So far almost 100 people have provided witness statements and over 50 people are being invited to provide oral evidence to the Inquiry.
The panel will take oral evidence from patients, relatives of patients, and staff from the Northern Trust about their experiences.
The panel will receive evidence from experts who reviewed the case records of patients who died within 90 days of the diagnosis of C. diff.
Experts have also been called to address key themes identified by the Inquiry which include:
The law on death certification
C. diff infection, infection control practice
Care of the dying
Communication with patients and relatives
Staff support in healthcare organisations
Communications with the media.