Death-suicide husband 'under restraining order'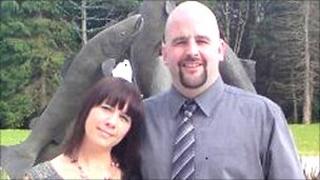 A man who is believed to have killed his wife then himself after their marriage break-up, had been subject to a restraining order.
It is understood Philip Hull, 34, took his own life after killing his wife Sharon, 33, at their Carnbeg Meadows home in Antrim early on Saturday.
The couple had three young children who were not in the house when Mrs Hull died.
Mrs Hull's body was found by her mother at about 0830 BST.
Ten minutes later, her husband's body was found in a car park at nearby Tardree Forest.
It is understood that the couple, who had been married for 12 years, recently separated. Police said Mr Hull had been under a restraining order.
Despite initial reports, it is understood that Mrs Hull was not stabbed.
Mr Hull worked as a security man, whilst his wife worked for an accountancy firm.
He was a rugby fanatic and they were both well known in rugby circles in the Antrim area.
A family friend said Mrs Hull was "lovely and bubbly, great craic and she was an inspiration."
Mr Hull was "a gentle giant. A really nice guy."
Local Ulster Unionist councillor Adrian Watson knew the couple through the local rugby club.
"I remember them getting married," he said. "They brought their children back to club matches. They were involved in social events at the club. They were very sociable.
"Since yesterday, some members who had left the club contacted me. They just could not believe this had happened. They are absolutely devastated. Everyone's heart goes out to those three young children.
"They don't understand what is happening. The oldest boy is just nine years old. It is a huge challenge for Sharon's family to rebuild their lives and support those young children."
Post mortem examinations have been carried out. Police said they were not looking for anyone else in connection with the deaths and a definite line of inquiry is being followed.
Meanwhile on Monday, a spokesperson for the North Eastern Education and Library Board said that the board's Critical Incident Support team was arranging to offer counselling support for any staff or pupils who requested it.
"The principal and staff at the children's school have been very shocked by the weekend's events," the spokesperson said.
Police said initial reports that Mrs Hull had been stabbed were incorrect. The family have requested no further details are released.
They have appealed for the media to give them time and privacy to grieve.
Detectives want to trace Mr Hull's movements between 0200 and 0600 BST on Saturday
They also want to talk to anyone who heard a disturbance in Carnbeg Meadows at about 0300 BST.