Mental health staff attacks rising in Northern Ireland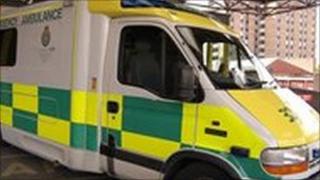 Attacks on staff working in mental health are increasing in Northern Ireland, the deputy director of the Royal College of Nursing has said.
It follows an attack on a male nurse at Holywell psychiatric hospital outside Antrim on Thursday.
It is understood the attacker was a patient in the hospital. The nurse was stabbed twice in the chest and also suffered an injury to his neck.
Garrett Martin, of the RCN in Northern Ireland, said the rise was worrying.
"Unfortunately it doesn't surprise me. It's something that unfortunately is on the increase," Mr Martin said.
"The latest figures that we have from the Zero Tolerance group is that there are significant increases in the numbers (of attacks) particularly on nurses and particularly in the mental health arena."
Mr Martin said dangerous patients needed to be identified.
"There is a need for all patients to be risk assessed for the likelihood of violence.
"Patients who are assessed as being a higher risk, there is a need, not just for training, but also for additional supervision and additional staff to be able to deal with that.
"Once again in the current climate, that is something we in the Royal College of nursing fear could be compromised."
The Northern Health Trust said it had a "vigorously enforced" zero tolerance policy towards violence to staff.
Holywell Hospital provides a range of acute and other in-patient mental health services.
It has nearly 200 beds covering acute admission, dementia assessment, intensive care, continuing care and rehabilitation.